Soft launch started October 1st The product is the engine that drives the compensation plan.
You can build a solid residual income based on the results of the products, watch the videos below.
Becoming an Independent Brand Partner
We, believe a satisfied customer is the absolute best advertising for any business. Rather than introducing our products to the marketplace through traditional advertising and retail outlets, we compensate our customers when they choose to become an Independent Brand Partner (IBP) and tell others about our products.
Celljetics

has created a simple direct sales platform using cutting edge software technology with a very efficient distribution system. Instead of spending wasteful time and money staffing employees and corporate management, our cloud technology allows us to be efficient and reduce the normal costs of doing business. Our low-overhead business model allows us to provide a very lucrative rewards plan for our Independent Brand Partners.
Celljetics

is and always will be a field driven company, not a company driven company.
We believe in and rely on our IBPs to drive the company sales and provide leadership support to the field. Most other direct sales companies think they need to invest money in beautiful buildings and corporate management teams.
We, believe the true heart and soul of any direct sales organization are the independent promoters.
We believe in putting money into formulating the highest quality products that can make a difference in people's lives. We also believe in helping our IBPs reach their financial goals using our business model.

Good Health is Wealth - Amazing Health Secrets By Giving Your Body
the Tools for a Strong Immune System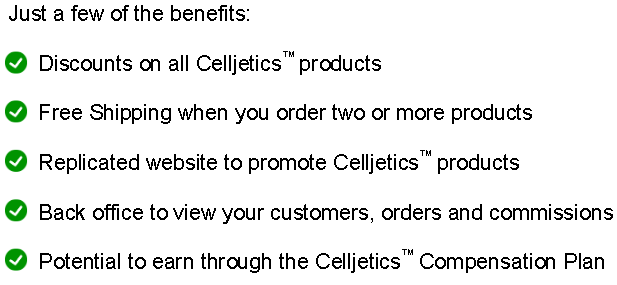 Simple & Affordable Business
There's a one-time $25 fee to set up your Independent Brand Partner replicated website, back office and your commission payment account. There is no annual renewal fee.
Preferred Customer
There is no fee to become a Preferred Customer (PC)to purchase Celljetics

products online and receive discount pricing. PCs get their own login on their celljetics website to place one-time orders and manage their AutoShip order. PCs also receive free shipping when they order two or more products.
---
Retail Commissions 15%-20%
As an Independent Brand Partner, you can order and sell the products at suggested retail prices and earn 15-20%.
Personal Volume and Commission Volume
Each product sold has Personal Volume (PV) and Commission Volume (CV). The PV is used towards qualifications and rank advancements. The CV is used to calculate commissions.
Commission Payments (MyCelljeticsCommissions.com)
IBPs receive a Celljetics

prepaid Visa card and online commission account. Your commissions are transferred to your online account. You will have the choice to transfer funds to a bank account or use your Celljetics

Visa card to make purchases anywhere Visa is accepted. Weekly commissions are paid every Friday on the sales of the previous week. All monthly commissions are paid on the 10th of the following month based on the sales of the previous month.
10% PERSONAL PRODUCTION BONUS (monthly)
All of your personal orders and your Preferred Customer orders count as your own Personal Volume. IBPs earn a 10% Personal Production Bonus (PPB) on all Personal Commission Volume over 100 CV. For example, if the IBP has 400 CV in one calendar month, they would earn 10% on 300 CV (400 CV -100 CV) for a $30 commission.*
15% STRIVE FOR FIVE BONUS (monthly)
When you achieve at least 500 PV in any calendar month and have 5 or more Preferred Customers that have placed an order in the same calendar month, your Personal Production Bonus will be increased from 10% to 15% on your total volume over 100 CV. This creates an incentive to increase your commissions by getting more customers.
The "Strive for Five" bonus is also paid monthly.**
A maximum of 100 CV of your first Enrollment Pack volume counts towards the Personal Production Bonus. Enrollment Pack volume is calculated and paid out in the weekly First Order Bonus. The Commission Volume over 100 CV is adjusted prior to paying upline commissions in the Uni-Metric

and Infinity bonuses according to how much was paid out in the Personal Production Bonus.
Ranks and Personal Qualification Requirement
Ranks are achieved by the number of personally sponsored active IBPs and your total group volume to infinite levels. There are no leg volume requirements where you need 3 or 4 team members to maintain a certain amount of volume each month. The most volume you can count towards rank advancement from one IBP is 50% of their total group volume. You can still get paid on 100% of the volume from this one IBP, but you need to produce at least 50% "outside volume" to advance your rank. You only need to maintain 80 PV to be considered an active IBP and to earn commissions. You can count customer orders towards the 80 PV monthly volume requirement.

First Order Bonus (FOB)
When you enroll another IBP, you earn a First Order Bonus paid from the products inside their Enrollment Pack they choose. The percentage you earn is based on your current paid rank according to the chart below.
The weekly sales pay period runs Friday-Thursday. The FOB is paid every Friday based on the sales from the previous week's pay period.

Uni-Metric

Compensation
After the first order for an Enrollment Pack, the sponsor and upline will be paid on the CV according to the
Uni-Metric

chart below. The personal volume requirement is 80 PV. You get paid more levels when you personally sponsor more active IBPs and increase your total group volume. You get to count your entire organizational volume down infinite levels, not just 7 levels.
Notice how the percentages change and move to lower levels with the projected shape of your organization when you advance to a new rank. This is an exciting and unique feature to our compensation plan.

Gold Infinity Bonus
The Gold Infinity Bonus of 2% is paid on your entire group volume down to the first Gold or higher rank.

Platinum Generational Infinity Bonus
This bonus is paid when you achieve the Platinum level and have at least one Platinum in your organization.
It is calculated and paid off the downline Platinum's total group volume (minus Enrollment Pack volume).
We refer to this as a "generational" infinity because the Platinum does not have to be personally enrolled by you.
Your first Platinum could be on your 8th level in your organization, but that would be considered your first generation Platinum. This bonus can pay significant amounts to multiple IBPs on the same group volume, so there is a CAP to how much you can earn on this bonus based on your rank. See the chart below.

Diamond Generational Infinity Bonus
This bonus works exactly like the Platinum bonus except you need to be a qualified Diamond and have at least one qualified Diamond below you. There is no maximum commission (CAP) on this bonus.